S T U D I O G H I B L I N E W S


Ponyo US Release

Paley : 01 Apr 2009
Disney will release Ponyo in the US as simply "Ponyo" on August 14th.

src: Animation World Magazine

Tokyo International Anime Fair and Ponyo

Ben : 06 Mar 2009
Studio Ghibli will pick up the Tokyo Anime Award for the year's best animation for "Ponyo on the Cliff by the Sea" at the Tokyo International Anime Fair in Tokyo, Japan!

> Full Story <

New! coming to theaters in Korea!


Ben : 13 Dec 2008
Ponyo is now being played in theaters in South Korea!

Theaters Showing are...

Full Article ...
Ponyo English VA Announced

Paley : 27 Nov 2008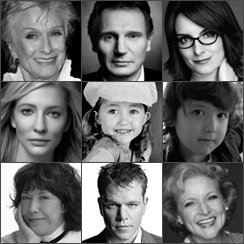 Expected to hit North America next year, Hayao Miyazaki's Ponyo will feature very familiar voices. Produced by Frank Marshall and Kathleen Kennedy, Ponyo's English voice cast includes Cloris Leachman, Liam Neeson, Tina Fey, Cate Blanchett, Noah Cyrus, Fankie Jonas, Lily Tomlin, Matt Damon, and Betty White.

src: Peter van der Lugt , GhibliWorld

Ninokuni Packaging

Paley : 15 Oct 2008

Kotaku.com is offering packaging images of Level5 and Studio Ghibli's newly collaborated game, Ninokuni. View All Pictures

GVW: Studio Ghibli alumni in new Disney-produced anime


William R. : 10 Sep 2008
Three members of Japanese voice casts of Studio Ghibli films are to voice roles in a new anime series co-produced by Disney.

Full Article ...
S I T E U P D A T E S


Ponyo Music Video

Ben : 04 Apr 2008
I posted the Theme Song Music Video for Ponyo on a Cliff!
Enjoy!

Tales From Earthsea

Ben : 07 Mar 2008
hey guys! i just posted the Tales From Earthsea Trailer Up (its better than that other one) lol

Lupin III character descriptions added

paperbullet : 18 Feb 2008
Like it says above. There are now character descriptions for "Lupin III: Castle of Cagliostro".

Movie Previews

Ben : 09 Jan 2008
Hey! i will be posting Video Previews so you can see if you like the story or not! i will only put 3-5 minutes of the best scenes!

Ponyo Theme Song

Ben : 04 Jan 2008
The Theme song to Ponyo is Here! go to the Ponyo Page to download!

Ghiblies Section being updated

paperbullet : 27 Dec 2007
The section for the two Ghiblies shorts are being updated to the new format. Please excuse our dust!